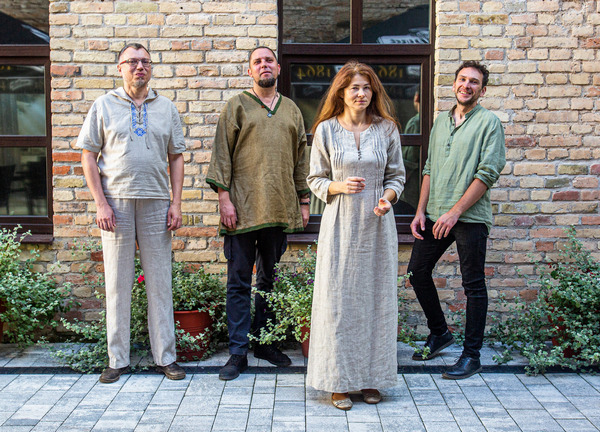 Photo by Lena Maisiuk
---
---
Tatiana Soloviova is a singer and songwriter from Grodno, Belarus.
Tatiana is the laureate of numerous Belarusian, Ukrainian, Russian and Polish festivals of singers-songwriters, and the guest of number of festivals in Belarus, Poland, Lithuania and Latvia. Her musical passions vary from classical (academical) music and jazz to art-rock and ethnic music, with a special love to the experiments with mixing different styles. That's why her songs are so different.
Her first CD «Сердце не остынет» was recorded in 2010-2011. It became the basis for her solo concert program which includes her songs and the songs based on the verses of classical and contemporary poets.
Tatiana and her acoustic project
From 2012 Tatiana performs together with multi-instrumentalist Alexander Blokhin and percussionist Ihar Adasik. Alexander is the leader of the group «Nemo» from Lida, Belarus, he plays ethnic wind instruments (flute, zhaleyka, ocarinas, kalyuka, shakuhachi), percussion, jew's harp, kalimba, and other instruments, and he crafts musical instruments himself. Ihar lives in Grodno, he plays percussion with Tatiana and collaborates with different bands in Grodno and Minsk, and he also crafts musical instruments himself. The project performs the program based on the songs written by Tatiana and their own arrangements of the Belarusian folk songs.
The project plays concerts (Belarus, Poland, Latvia, Lithuania), accepts invitations to concerts and festivals.
---
Media, TV and radio:

---

«Just morning», «Belarus 4» TV channel, 28.01.2019
«Just morning», «Belarus 4» TV channel, 09.07.2018
«Just morning», «Belarus 4» TV channel, 13.09.2017
Interview for LiveTrigger Magazine: "Tatiana Soloviova, songs from the post-soviet territory", June 2016
«Strings breath», «Belarus 3» TV channel, 29.04.2015
-
«Territory of music», «Grodno Plus» TV channel, 26.04.2013
«Grodnomania», «Grodno Plus» TV channel, 25.06.2011
Bardradio.net, Kiew, 07.01.2011
«Singers and songwriters» Radio Belarus - 1, 05.12.2011
Festivalio "Tai - Aš" svečiai iš Baltarusijos: "Daina yra daugiau nei vien tekstas", 13.10.2012